2020 marks my 6th anniversary to my wife Suzanne. We got married at Oxford Prison! (Suzanne hates me for calling it that) The Malmaison in Oxford was our chosen venue on 26th July 2014. We couldn't ask for a better day, it was beautiful and sunny (the hottest day of the year!!!). 
I stayed at the hotel to do the final few bits and checking everything had arrived. Once the cake was here, chairs sorted I only needed my best man, my friend who was being the DJ for the evening  to help him with his kit and of course my bride.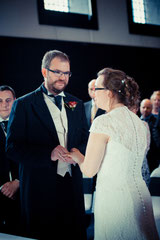 While waiting I was to find out there was an EDL march going on and the centre of Oxford was closed! But lucky everyone got there with plenty of time to spare. This point is where the bride starts to miss out on a few things specially if they are not getting ready at the venue. We were to be married in the old visitors room so I got to have a nose around before anyone else arrived. I also got to see our suite for the night as well. For those who don't know the Malmaison in Oxford that used the be the old prison. There are rooms that used to be the old cells (3 cells to make one room), guards rooms and the governor rooms. We were to have one of the governors rooms within the tower and WOW what a room over 2 floors and views over the front gates.
All our guests met within the main A wing that really makes you feel you are within a prison. This was the room I fell in love with and new I wanted to get married here. This is the part that the bride really does miss out on greeting all our guests, having some food and drink before the celebrations begin. Then following everyone into the visitors room ready for the ceremony.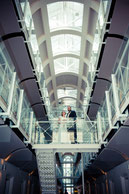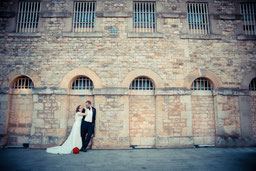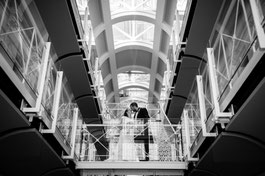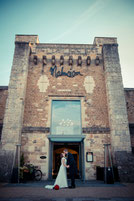 I don't think I've ever been so nervous waiting at the front, even those it was just my friends and family its still nerve racking. The main part I remember is when the music started and looking around as everyone standing, then there was my little niece Chloe who was only 3 at the time looking a little nervous herself standing in the door way, I knelt down to encourage her down and as she came forward I looked up and there was Suzanne.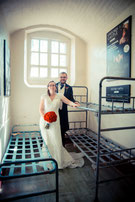 The ceremony seemed to go so quick as does the whole day before you know it they are saying "You may kiss your bride". Now we could relax and really enjoy the day now the legal stuff was done. We chose the Malmaison because there was so much choice to have our guests inside and out. Being in the UK we all know that the summer weather is very unpredictable so to have the choice where we could go was a big part of choosing the Malmaison.
The rest of the day was nice and relaxed, Amy our photographer was just brilliant through out the day. Letting us enjoy our day but also getting the shots as well and I remember this and have the same approach when I am filming a wedding. Now its odd that I film weddings but I did not have my wedding filmed but it was something we didn't feel was needed at the time and a lot of couples are the same. But looking back I would of be amazing to have it on film but at least I have stunning photos and look forward to the day I get to go back and film someone else's. 
They say the wedding is the best day of your life and goes so quick and they are right it truly was. The only thing I would change would be to have a spare shirt as it was so hot :)
We couldn't of asked for more and that's what I tell the couples that I work with that they need to enjoy themselves and have the day they wanted and that's why we are seeing so many couples in 2020 postpone because they don't want to compromise and why should they. They are spending a lot of money to have their day if it means waiting a year to have it then so be it. I would be doing the same if I was in their shoes. 
Photos by Oxford Photography