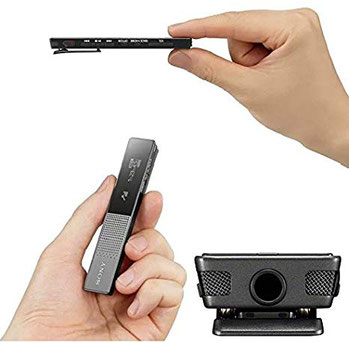 For the gold and silver package this adds the audio for the couples ceremony and speeches which really brings the memories to life. So how to we capture the audio?
This is the Sony TX650. A small audio recorder that has a built in microphone that fits in your pocket.
Now for the groom they may not say it at first but they are nervous to start with and having a microphone attached can add to the nerves. We used to us radio microphones that had a lapel mic that we attached to the grooms jacket. We found that this added a little too much pressure to the day as it look a little bit of setting up and the fact I could hear everything that was going on!
So we purchased the TX650 the small little recorder that goes in the outside jacket pocket. All I do is grab the groom 5 minutes before we start, click record and lock the device so it doesn't switch off. Pop it in his jacket pocket and that's it. I don't hear it till I get back. We had some issues with churches not allowing radio microphones as it interfered with their own system so these sort that problem out as well. As for a back up, all us videographer want to have a back up just in case. We never want to use it but what to know it's there. I will have a second TX650 that I will put on the table under the flowers so its hidden away or add a second one to the groom just so we have everything covered in case one fails. The cameras are always recording audio as well so we have a second backup there just in case. 
The same really for the speeches, everyone who is making a speech gets one to attach to their jacket or waist coat. Ladies making speeches just have to hold it as its quite hard to find somewhere to clip it. If the venue provide a microphone for the speeches we then just attached on to the hand held microphone so that we have a backup again in case anything goes wrong. 
Thats it, we keep it simple do that we get good clean audio that we can then mix into the highlight video. We have use in the past some lovely meaningful words overlaid at the beginning which has been captured using this method. 
Hopefully now with this all explained it won't put people off having audio recorded during the day. You can see from the pictures below how discreet the TX650 is and that you will hardly notice it on the day.